35 – 55 miles | 1-1.5 hours from London
The beautiful chalk hills of the Chilterns lie between London & Oxford. Charming brick and flint houses in small villages nestle quietly in an unspoilt countryside. A well kept secret, not on any tour operators itineraries. In over 30 years I have NEVER seen a tour bus here! An unknown gem.
Can be combined with
Oxford
8 Hours | 1-3
GB £580 | 4-6
GB £640
Windsor Castle & Oxford
9 Hours | 1-3
GB £660 | 4-6
GB £720
Blenheim Palace
9 Hours | 1-3
GB £690 | 4-6
GB £750
Oxford & Blenheim Palace
10 Hours | 1-3
GB £730 | 4-6
GB £770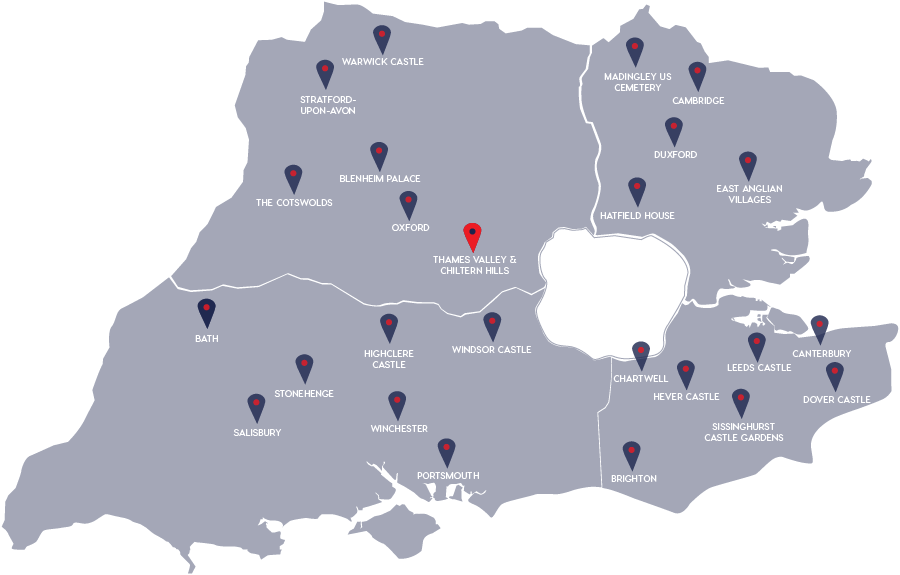 The above sights are just a selection the most popular places to visit within a day trip from London. Each area has dozens of other smaller, less known but no less fascinating sights to visit. You may have a special interest or request which we will be delighted to accommodate.
Itineraries are not fixed but can be altered to suit your mood, interests and conditions on the day We customise itineraries to your needs and they can
usually be changed at any time.
As "Blue Badge" Guides, we get priority access at the main London sights such as The Tower of London Westminster Abbey On a busy day this can save well over an hour waiting in line for tickets.
For certain venues such as Stonehenge, Windsor Castle & Roman Baths we strongly recommend pre-purchasing tickets to accelerate our visit. We will do this as a complimentary service after consulting with you. Any pre-purchased tickets can be added to your final account or settled directly in cash.
All quoted rates include:
- Driver Guided services and vehicle
- Any applicable taxes, tolls and parking charges.
Rates exclude
- our entrance charges (Guides get in free)
- Your meals and drinks
- Any gratuities (at your complete discretion)
All distances and timing are a guide only and will depend on where you are staying in London, traffic conditions prevailing, which day of the week it is, any other events taking place and the weather on the day.
No bookings can be guaranteed until a 25% deposit has been received
Payment may be made by American Express, Mastercard & Visa.